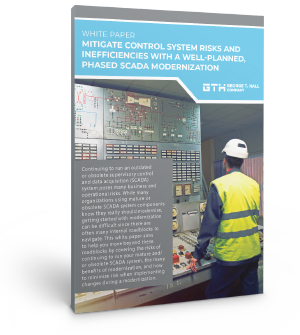 WHITE PAPER
Mitigate Control System Risks and Inefficiencies with a Well-Planned, Phased SCADA Modernization
When any part of your supervisory control and data acquisition (SCADA) system is outdated or obsolete, there are business and operational risks your organization may be facing – from cybersecurity threats to increased downtime to challenges with maintaining and supporting your systems. While many organizations using mature or obsolete SCADA system components know they really should modernize, getting started with modernization can be difficult.
This white paper aims to help you move beyond the modernization roadblocks you may be facing by covering the following:
Details on the risks of continuing to run your mature and/or obsolete SCADA system
The many benefits of modernization
How to minimize risk when implementing changes during a modernization
An example of a recent modernization we completed for a mining client
Information on how GTH can develop a phased modernization plan that will allow you to start experiencing the numerous benefits of a modern SCADA system sooner.